What is NetSuite?
Businesses of all sizes require management of tedious day-to-day tasks off their shoulders to concentrate on the more important tasks to grow the business effectively. Oracle, to solve the problem, brought the NetSuite ERP. It is an all-in-one solution that helps companies automate tedious processes and give more visibility and real-time insights into the database giving businesses more substantial control over their businesses. It makes it easy for managers to analyze the progress across all departments and ensure the work is in sync and on time. It enables them to make fast and informed decisions, thus increasing efficiency and delivering on time. Moreover, Oracle NetSuite ERP is economical, hence, suitable for businesses of all sizes.
A Brief History
You must know that many ERP applications are available in the market, but the first true Cloud ERP will always be Oracle NetSuite. It is considered best by numerous companies across various industries. It was founded by Evan Goldberg in 1998, named NetLedger, and launched to the public in 2007. They pioneered SaaS (Software as a Service) technology as a form of business management. After the company saw significant growth and a rapid increase in the run rate, it was fully acquired by Oracle in 2016. They combined their technology with NetSuite and made it available for small to mid-sized businesses.
Features of Oracle NetSuite ERP:
The features of Oracle Cloud ERP make it an ideal platform for enterprises of all sizes and helps them get 360-degree insight into their business. Such detailed analysis and reporting provide flexibility, increase efficiency, and help scale the business.
The features that help them make it a reality are:
1.Financial Management: NetSuite Cloud provides real-time visibility into the company's financial transactions. It accelerates the financial close and monitors performance. All in all, it gives a 360-degree view of the entire finances across all offices globally.
2. Planning & Budgeting: Planning and budgeting are essential aspects of businesses. Therefore Oracle came up with NetSuite Planning and budgeting Cloud. The system incorporates a wide range of business logic and smoothens workflow approvals and reporting. It allows businesses to expedite the financial processes, and the faster analysis and reporting of finance, both departmental and across the company, increases efficiency and eliminates the chance of errors.
3. Order Management: Oracle's Order Management product module helps establish a planned and fluid flow of the entire process, from receiving the order to delivery and feedback. It automates, monitors, and manages the process and ensures timely deliveries, payments, and responses to inquiries. It strengthens the revenue process by fastening the entire process, preventing errors, and boosting sales.
4. Supply Chain Management: It is easily possible that the geographical location of where the products are manufactured is different from the stores. NetSuite's Supply Chain Management product helps companies manage the supply and ease the decision-making process as it is built on the premise that location should not be a hindrance here. The supplies to faraway locations may take longer, but all the other aspects can easily be managed.
5. Procurement: Procuring goods and services is a tedious yet vital business task. Gathering information, documents, requesting quotes, and the entire process is time-consuming and requires hiring several employees. NetSuite's Procurement module comes with capabilities to automate the process and buy goods and services at the best price by pre-negotiating contracts. It also provides them real-time visibility, automates renewals, captures timely updates, proactively responds to changes, and much more.
These features make NetSuite ERP an ideal choice for all enterprises, providing them with real-time insights, flexibility, in-depth analysis, and reporting.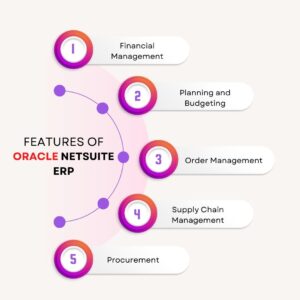 Benefits of ERP NetSuite:
More and more companies are moving to Oracle NetSuite ERP Cloud because of the benefits it comes along.
Better Decisions:

NetSuite ERP

enables managers to have unified access to financial and operational transactions and easily customize dashboards, visual analytics, and reports to have an in-depth report of the operations from across the organization. It helps them make better and informed decisions.
User-friendly:

NetSuite ERP allows users to have customized dashboards to decide on their workspace interface. A comprehensive platform simplifies sharing documents and provides role-based authentication that provides data security. The update and real-time data help fast decision-making, and the software's responsive design simplifies accessing and using it.
Simplified Business:

Simplifying complex and time-consuming processes is the easiest way to grow a business. NetSuite ERP automates the processes and saves time and resources that would otherwise go into completing them manually. It operates from a single application to manage operations such as accounting, distribution, inventory, and other critical operations and enables businesses to identify new opportunities in the market and serve customers in a better manner.
Ease Running Business:

Spreading business to different geographical locations is an essential aspect of growth for companies.

Oracle NetSuite ERP

is a one-stop solution that helps manage all the business units and subsidiaries, abide by rules and regulations of different countries from a single platform, and makes running a business simple. Moreover, it provides real-time visibility at local, regional, and headquarters levels and makes working systematic at all locations.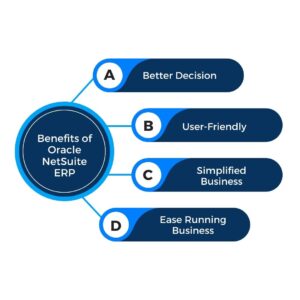 Best Suited Industries:
Over the years, hundreds of companies across multiple industries benefited from Oracle NetSuite ERP Cloud. Some of the industries which have successfully implemented and benefited from it are:
Advertising and Digital Marketing

Apparel, Footwear, and Accessories

Campus Stores

Consulting

Education

Energy

Wholesale Distribution

Financial Services

IT Services

Health and Beauty

Food and Beverage

Manufacturing

Media and Publishing

Retail

Healthcare and Life Sciences

Nonprofit

Professional Services

Transportation and Logistics

Software/Internet Companies

Restaurants and Hospitality
To conclude, NetSuite showcased excellent results before Oracle acquired it and has only improved. It is a software system benefiting thousands of companies of all sizes. Its scalability is one of the most attractive benefits as it frees entrepreneurs from worries about shifting to another software as the business expands. They only need to choose the correct implementation partner, such as Tangenz, IT System Integrator.
With the emerging technology and the fast-paced environment, companies are moving and operating their functions from the ERP Cloud platforms. Soon, most companies will be operating from Cloud ERP.
Connect with us to know much about its benefits and implementation.