Fusion Analytics Warehouse (FAW) is the latest innovation from Oracle analytics that provides Out-of-the-box pre-loaded KPIs, visualizations and reports for analyzing data in Oracle SaaS applications such as Oracle Cloud ERP, Oracle Cloud HCM etc. Data is extracted from Oracle SaaS applications and loaded into ADW (Autonomous Data Warehouse), whereas OAC is used to customize existing dashboards and create new dashboards.
This service consists of a data pipeline, data warehouse, semantic model, and best-practice content such as prebuilt KPIs, dashboards, and reports. Oracle manages the service starting with deployment through performance monitoring, upgrades, and maintenance for the pre-built content.
Oracle Fusion Analytics Warehouse is available on Oracle Cloud Infrastructure. When you order Oracle Fusion Analytics Warehouse, you get access to included capacity for Oracle Autonomous Data Warehouse and Oracle Analytics Cloud Subscription. You must have an Oracle Cloud account with Universal Credits to provision Oracle Fusion Analytics Warehouse in one of the regions where the product is available.
Regional

Availability
Right now Oracle Fusion Analytics Warehouse is available in the following regions.
| | | |
| --- | --- | --- |
| Region Location | Region Name | Region Key |
| Ashburn, VA | us-ashburn-1 | IAD |
| Dubai, UAE | me-dubai-1 | DXB |
| Frankfurt, Germany | eu-frankfurt-1 | FRA |
| Jeddah, Saudi Arabia | me-jeddah-1 | JED |
| London, United Kingdom | uk-london-1 | LHR |
| Sao Paulo, Brazil | sa-saopaulo-1 | GRU |
| Sydney, Australia | ap-sydney-1 | SYD |
| Toronto, Canada | ca-toronto-1 | YYZ |
Prerequisites

to Create FAW Instance
If you want another user (Other than Admin) to provision FAW service, then add Administrator privilege to that user.

Identify your Oracle Applications Cloud instance from North America or EMEA location. Ex:

https://xxxx-test.login.us6.oraclecloud.com

Reset FAWService user password under Oracle Applications Cloud. The FAWService user is a predefined user provisioned in Oracle Applications Cloud and is used by the data pipeline functionality in Oracle Fusion Analytics Warehouse. This user account has the appropriate data security privileges granted on the Oracle Applications Cloud view objects to bulk extract data from Oracle Applications Cloud into the data warehouse.
Creating

Fusion Analytics Warehouse Instance
Step 1: Sign in to the Oracle Cloud Infrastructure Console.

Step 2: Open the navigation menu. Under Analytics & AI, click Analytics, and then click Fusion Analytics Warehouse.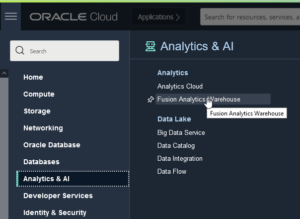 Step 3: Select a compartment from List (Or) Create a custom compartment for FAW instance. If you create a custom compartment make sure you grant permission to create services in it.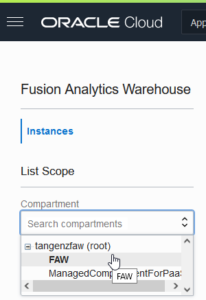 Step 4: Now click on "Create Instance" under the instances page.

On the Instance creation page fill the following details.
Enter a display name for the service. (This name needn't be unique and can contain alphanumeric and special characters.)

Enter a name for the instance. (This name should be unique in your tenancy. Also, this name can contain only alphanumeric characters without spaces.)

Enter a description for the service. (Optional)

Since this is your first instance, Select Development/Test as your Intended use.

If you are not doing it in a trial account, Enable Subscription configuration.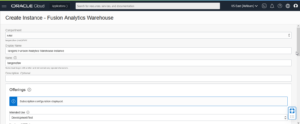 In Fusion Application Connection, provide the Oracle Applications Cloud URL (not the Login URL) and credentials of the default FAWService user from your Oracle Applications Cloud instance.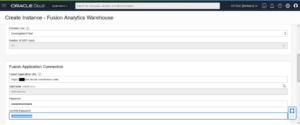 Click Test Connection to check the connection to the Oracle Applications Cloud instance and confirm whether the credentials are valid.

In Autonomous Data Warehouse Administrator Credentials, provide an administrator password for the Oracle Autonomous Data Warehouse that's provisioned in your tenancy to store the transformed data.

The email address for notification is pre-populated from the user name. If the username isn't an email address, then provide a valid email address for notifications. Finally Click Create Instance.

Oracle sends an email to the designated email address when your service is ready. Alternatively, you can display the Activity page to check the current status. When the status changes from CREATING to ACTIVE, the service is ready to use.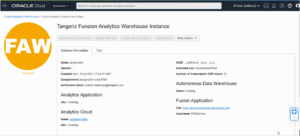 Validate

your Instance
When your FAW instance is Ready, follow below instructions to validate your Instance.
Sign in to the Oracle Cloud Infrastructure Console. Navigate to Analytics & AI under Analytics Click on Fusion Analytics Warehouse.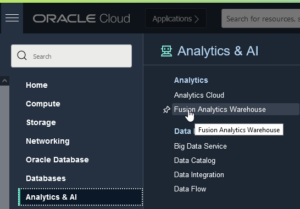 Click on the newly created service instance.



That's it! It is good to go!
If you still need help with Fusion Analytics Warehouse (FAW) implementation, connect with Tangenz IT System Integrators, an Oracle Preferred Partner, if you need help with your Fusion Analytics Warehouse (FAW) implementation.