For years, organizations of all sizes have been using Oracle E-Business Suite (EBS), also known as an on-premises ERP system. Initially, the ERP system required large hardware of big machines for the on-premises setup, which raised the implementation cost and capital investment. Moreover, the rapidly changing technology could not keep up with the modern technology and new requirements with the on-premises ERP system. Later the ERP cloud was introduced that runs on remote servers and is managed by the provider. Oracle Cloud ERP eliminated the need for the companies to spend on hardware setups and reduced capital and operational expenses.
Oracle E-Business Suite (EBS) is a set of business applications used for your enterprise's automation and management processes. Oracle launched the suite in February 2007 with several applications that organizations can implement in businesses.
Each application is licensed separately in the suite to make it easier for enterprises to select the best suitable combination for their business processes.
The applications in the Oracle EBS are Oracle CRM, Oracle Financials, hcm cloud, Logistics, Supply Chain Applications, Order Management, Transportation Management, and Warehouse Management System.
Oracle Cloud Applications is Oracle's scalable and flexible SaaS solution to help finance and operations teams build buoyant organizations. E-Business Suite (EBS) owners can effortlessly move to the Oracle Cloud ERP and take advantage of the next generation of applications. The software has many benefits and is quarterly updated to keep it technologically updated.
It is a software that integrates the core day-to-day business operations such as accounting, human resources, order management, inventory and customer relationships streamlining all these business processes and information to increase efficiency and better coordination among various departments.
The central feature of an ERP system is a shared database with different functions used among all the departments in the same organization. It makes sharing of information faster and reduces the chances of errors as all the departments employ the same information. A complete Oracle ERP suite also includes an Oracle EPM Cloud (enterprise performance management) system that helps with planning, budgeting, forecasting, and reporting an organization's financial results.
Its three basic functionalities are:
Enterprise Resource Planning:

It bridges communication gaps among departments of an enterprise and connects finances, procurement, projects, and risk, minimizing the chances of error across industries.

Supply Chain Management:

It improves the functioning of the supply chain from manufacturing to distribution and takes care of the contracts, billing, and invoices of the suppliers, distributors, etc.

Enterprise Performance Management:

It enhances performance by gaining speed & agility, and planning across finance, HR, supply chain, and sales.
Moreover, Oracle Cloud Apps have many highly sought-after capabilities not available in EBS. It includes native mobile, collaboration and embedded analytics and provides transformational technologies like AI, ML, chatbots, blockchain, IoT.
Technology trends keep on changing with time. Some of the current key ERP trends are:
Mobile ERP:
Oracle Cloud ERP makes access to real-time information easy as employees can get all the data with just a few clicks on their mobile phones. It enables them to send push notifications, review and approve time, sales orders, and expenses anywhere.
Artificial Intelligence:
Incorporating AI (Artificial Intelligence) into ERP software has created "intelligent systems" to transform business data into actionable value and improve performance. Intelligent oracle integration cloud ERP can optimize workflows and reduce time & scope of errors. Its purpose is to enhance human activities.
3D Printing and ERP systems:
3D printing and additive manufacturing are increasingly being incorporated into enterprises. Oracle ERP provides flexibility and scalability for manufacturers to support material and capacity planning and to meet the needs of the 3D manufacturing production environment.
Direct Machine Integration:
The communication between the machines and the ERP systems increases efficiency and eliminates the need to be with the machines at all times. The devices placed on the machines transfer the data to the oracle integrated cloud ERP system and give real-time information.
This article will help you understand the advantages of moving from Oracle E-Business Suite (EBS) to Oracle Cloud ERP.
Various companies across all industries have implemented and used the Oracle EBS suite for a long time. However, as time passes, time requirements change, and the software needs to be either upgraded or replaced to maintain the smooth functioning of the company.
The companies who have Oracle EBS v12.1.2 or R12.2.x + suite are now planning to:
Planning a system upgrade now or soon:

On-premise ERP Cloud or EBS are now being considered legacy applications by the organizations. Most mid-size and large organizations have started planning a system upgrade to continue uninterrupted working with improved methods.
Want to eliminate customizations and standardized processes:

The old version of Oracle ERP required many customizations before installation to make it viable for organizational use in each department. Now the companies are starting to prefer standardized processes so that all the organization's work remains in sync on one platform.
Undergoing an exciting change event:

Companies who have undergone massive changes such as getting an IPO or a complete structural change are now looking for something new and better to suit the company's requirements.
Experiencing significant system pain:

Some organizations face diminishing performance and security issues. EBS has limited capabilities and lacks in fulfilling the new upgraded requirements; thus, performance issues are being reported by companies.
Have leaders with mandates for change and strategic initiatives:

Additionally, companies who require mandatory changes to build new strategies plan on other software options.
Have a clutter of applications and want to simplify:

EBS has numerous applications installed according to the customization for the organization. Although customization is essential for various industries, having a lot of applications onboard invites complexity. Companies now want to simplify the processes with standardized applications.
Dealing with disruptive competitors or in a fast-changing industry:

The industries and working styles are changing fast. To keep up with the time and gain an edge over competitors, companies are moving from obsolete on-premises EBS to Oracle integration cloud

with new technology and systems.
Tired of shelfware or unused seats in annual renewals:

Having purchased a complete set of EBS resulted in getting parts that were not required or used. Organizations are now planning to get rid of unnecessary applications in the systems.
ERP system mostly or fully depreciated (3-5+ years old):

The old ERP systems assisted the organization in the functioning of the organization but has now declined after the use of approximately 5+ years. Therefore companies are looking for an upgrade or a replacement.
Organizations that have used E-Business Suite continue to take advantage of all that Cloud Applications have to offer. Oracle has introduced advances like embedded machine learning to make available new and more engaging solutions for their customers. These advances are, however, available only in Oracle Cloud applications. It is a flexible and comprehensive suite of enterprise solutions that helps in building a resilient organization.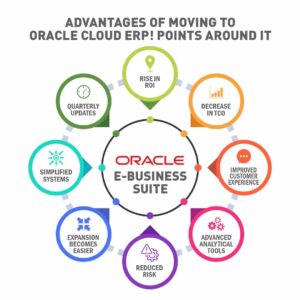 Listing down advantages of moving to Oracle Cloud ERP!
Reduced Total Cost of Ownership (TCO):

Organizations that implemented Oracle Cloud ERP reported an almost 50% reduction in TCO.

Increase Returns on Investments (ROI): Implementation of new and latest technology leads to a rise in ROI. Oracle customers who moved from E-Business Suite (EBS) to Oracle Cloud ERP saw an increase in their ROI by 3.2x.
Quarterly updates: Oracle does quarterly updates to deliver the best experience of the latest features and enhancements that are built on top of cutting-edge cloud infrastructure. It enables the companies to use the newest version of the technology without spending too much time on it themselves.
Simplified systems: Oracle Cloud ERP brought simplified procedures in the cloud application that allow reallocation of capital expenses (which was earlier spent on the on-premises EBS) as you only need to pay for the software you need with an operational expense model.
Enhanced customer experience: New and improved software, digital assistants, and machine learning streamlines the functions and reduces the time required to get real-time information, resulting in enhanced customer experience and it also transforming employees' work.
Ease in expansion: With the cloud version expanding the business to different geographical locations has become easier as there is no heavy machinery required for the operations. It made expansion simplified with no geographical boundaries except for a few limitations.
Decision-making: Cloud application has advanced analytical tools for making sharp graphical reports that enable faster and more advanced decision making.
Reduced risks: The applications in the cloud are more compliant and secure than in on-premises EBS with current integrated technology and reduce risks.
How does Oracle Cloud ERP assist?
Professionals across industries have some pain points they keep finding solutions to. Oracle Cloud ERP brings solutions for Executives, IT professionals and Finance, Supply Chain & Operation Leaders.
Executives:
The focused pain points of executives are that they lack time to focus on the curation of strategies, face too many tactical issues and the unavailability of real-time data becomes a barrier to comprehensive and fast decision making.
Oracle Cloud ERP's solution to executives' decision-making problems is predictive analytics. The applications create a predictive report based on the available data and the past results that help them make decisive and effective decisions. Moreover, it facilitates new business models with IoT (Internet of things), advanced planning, and subscription services.
IT professionals:
IT professionals struggle with the maintenance of heavy infrastructure, which is both time-consuming and difficult. The software with too many customizations and expensive upgrades makes it difficult for them. Additionally, there is always a high risk of technology being obsolete, plus it becomes tough to recruit talent who can handle all of it.
Oracle Cloud ERP's comprehensive SaaS model reduces the total cost of ownership and simplifies IT along with enhanced 24×7 security. They do quarterly updates, thus ending expensive and long upgrade cycles. Moreover, they eliminate the risk of technological obsolescence by eradicating customizations & upgrades.
Finance, Supply Chain & Operation Leaders:
Professionals across Finance, Supply Chain & Operations, struggle with the lack of resources for visibility in inventory and order management and poor integrity and accuracy of data. Moreover, these roles require rapid communication across departments for data but lack of transparency takes a lot of time to make decisions and get enhancements and new functionality.
Oracle Cloud ERP, however, bridges the gap by a speedy utilization of new features and capabilities that gives more control to the professionals with integrated finance, procurement, inventory, warehousing, and logistics support. Additionally, it uncovers more opportunities with multi-dimensional oracle cloud analytics and updates.
Who needs Oracle Cloud ERP?
You might be wondering if you are ready to implement the software. Here's a list of questions you need to ask yourself to get to the answer.
If the questions apply to your concerns and the SaaS solution gives you an answer, you should make the next move and contact an Oracle partner for assistance in the implementation. Think of the challenges you face in upgrading and the extent of customizations.
Does your company require timely & effective data insights from reporting solutions?

What is the importance of reducing TCO with your ERP system?

What are your concerns about technological obsolescence with your ERP?

What are your system security risks because of resource challenges?

Do you face difficulties with accounting complexity due to diverse systems?

Do you face challenges in managing the record of the whole enterprise to report progress?

Are you facing challenges with the planning and forecasting process?

What solution do you need for managing financial & operational risks?

You meet a lot of challenges in managing multi-tier sourcing, manufacturing and distribution plans.

Compilation of data is becoming difficult.
To sum up, Oracle Cloud ERP Significantly lowers TCO, saves time, gives higher ROI, provides easy access to real-time data with an improved user interface. Moreover, Oracle takes care of regular automatic upgrades to keep up with cutting-edge technology. Global expansion, scalability, and integration become easy and provide the organization value.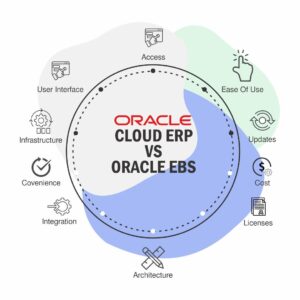 If you think of giving Oracle Cloud ERP a try, connect with Tangenz experts today.