Oracle Fusion Cloud is a group of software applications by Oracle. Oracle partners can integrate these applications to work efficiently as per the business requirements. It contains Oracle ERP (Enterprise Resource Planning), Oracle HCM (Human Capital Management), and many other software modules to power your business. The in-house coders write every line of code in the software application, and thus Oracle has complete control over the functions and updates.
The business areas that benefit from Oracle Fusion Cloud are customer relationship management, finances, supply chain management, procurement, business process management, human capital management, governance, risk, and compliance.
Based on a robust working and infusion of the latest technologies such as machine learning, mobile, and analytics deployed in the Oracle Fusion Cloud, it is a complete solution that delivers considerable support for companies around the globe across various industries.
Features of Oracle Fusion Cloud:
A new application means new and additional features. Oracle has introduced various features in the Fusion Cloud applications to enable organizations to gain maximum ROI. Let's have a look at them.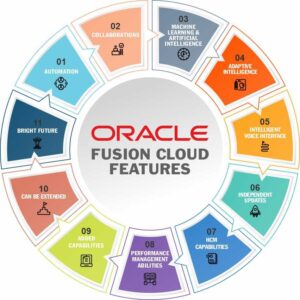 Automation:

Oracle added various automation features infused in the

integration cloud

to provide an enhanced experience. Maintaining finances is a tedious task but vital for all organizations. One error and the whole system is disrupted. Automated book-keeping makes the process effortless and error-free. Also, finding a transaction becomes as easy as asking for it. Another added automation is expense claims. It deals with the claims in bills and checks for errors, or fraud, making manual and laborious processes simple and accomplished within seconds by just adding a picture of the bill in the system.

Collaborations:

Oracle Fusion Cloud uses tools powered by artificial intelligence, enabling the internal systems to collaborate and work together. Additionally, it has also built a collaborative tool that people can use to work together and increase efficiency.

Machine Learning and Artificial Intelligence:

Oracle Fusion Cloud Applications gain artificial intelligence by listening to people and observing system environments through machine learning.

Adaptive Intelligence:

Applications in the Fusion Cloud are programmed in such a manner that they can find clusters, identify and automate patterns and detect irregularities. Oracle gains adaptive intelligence by implementing a model-driven approach and undertaking contextual actions. Moreover, it provides added features such as Chatbots, Report Generator, Intuitive Interface, and many more.

Intelligent Voice Interface:

Intelligent voice search enables employees to work on a system without having expert knowledge when needed. They can add instructions in the system using voice search and don't require waiting for specialists to undertake a complex process. It accelerates the speed and working capability of an organization.

Independent Updates:

Oracle Fusion Cloud is independent of the vicious update cycles that come with on-premises. The Cloud update cycle is of three months and is easy to implement. Moreover,

Oracle integrated cloud

has an additional feature wherein new updates can be switched on or off as needed. They take their time to get used to the new features and keep working with the features they are comfortable with.

HCM Capabilities:

Fusion cloud is integrated with

Cloud HCM

capabilities with improved models and added features. They used adaptive intelligence for scouting eligible candidates and providing an enhanced user experience for all their employees. Also, it has an exciting design studio that enables the configuration of workflow features and various transactions and has proved to be a successful addition among Oracle customers.

Performance Management Abilities:

New Fusion Cloud uses intelligent process automation for account reconciliation. It can locate suspicious transactions and can save organizations from unauthenticated transactions. Additionally, the system can deal with transaction processing, close process orchestration, disclosure management, and consolidation.

Added Capabilities:

As more businesses are moving to SaaS (Software as a Service), Oracle also added a subscription management system in its Fusion applications to allow their customers an effortless experience with order processing, revenue calculation, and subscription payments.

Can be extended:

One of the best features of Oracle Fusion Cloud Applications is that it can be extended to add customized add-ons, widgets, etc., it is versatile in nature, and a whole new custom code and software can be programmed based on the business requirements of an organization. Furthermore, Oracle partners can build even a series of extensions around the Oracle Fusion Applications.

Bright Future:

Oracle Fusion Cloud ensures seamless and undisruptive working in organizations irrespective of technological disruptions. Its independence in upgrades and adaptive intelligence gives an edge and helps companies stay ahead of the customer's demand curve. It is one of the most innovative suites of software applications to bring about fantastic business outcomes across HR, CRM, and ERP applications.
Benefits of Oracle Fusion Cloud Applications:
You have gone through the features of the new Fusion Cloud and must have understood its benefits and how it can boost your organization's ROI (Return on Investment). Now, let us sum up the benefits of the applications to help you make a better decision.
Oracle Fusion Cloud Applications is designed specially to power small and medium-sized businesses.

This revolutionary product combines next-generation enterprise technologies, applications, and services for robust performance.

Oracle integration cloud

applications combine business processes like HCM, ERP, and CRM to increase efficiency.

Fusion Cloud can be used across industries for various domains like BPM (Business Process Management), SCM (Supply Chain Management), GRC (Governance, Risk and Compliance), Financials, and Procurement.

They are built on an open standards-based platform based on the best business processes and practices and are secure.

Organizations can run fusion Cloud Applications in a cloud computing environment, and some features are even accessible via handheld devices.
Oracle is the standalone provider that offers an integrated suite of cloud applications and the cloud infrastructure platform. Availability of both enables you to implement processes faster and build applications better as per the company's requirements.
A significant benefit of Oracle Fusion is its ability to integrate with the legacy frameworks and hybrid architectures of the Cloud through its technical infrastructure that also enables external developments.
Connect with Tangenz, IT System Integrator, an Oracle Partner, for more information about Oracle Fusion and its implementation.