Oracle Purchasing Cloud enables you to streamline and automate the procure-to-pay process while enforcing negotiated pricing and terms and ensuring policy compliance.
It offers change management capabilities to aid you in adjusting to changing company requirements. To ensure that modifications are properly reviewed, you can use workflow approvals and tolerances to reduce offline interactions and the possibility of misinterpretation. You can also allow requests and suppliers to start changes.
The Oracle Fusion Cloud application can be configured as per the customer's requirement to default various attributes on the Purchase Order. Oracle Purchasing Cloud works at the Business Unit level, and many attributes default based on the business unit. However, in many cases, a business might be associated with more than one legal entity. Such scenarios require attributes to be changed/defaulted based on the legal entity to which the transaction pertains. One of the attributes is the legal entity on the Purchase Order header, and is also a critical attribute as there might be a legal requirement to have the correct legal entity populated and printed on the purchase order print, which is sent to the suppliers.
Configuration
Steps
1. Perform all the Procurement Setups (Not shown in this post)
2. To accommodate the requirement of defaulting the correct legal entity on the PO, we would have to create dummy(virtual) inventory organizations. Each organization will be associated with a distinct legal entity.
We would have to create as many virtual inventory organizations as the number of legal entities. Name the inventory organization same as the legal entity name for easier identification.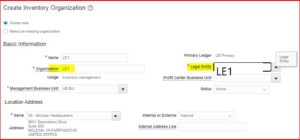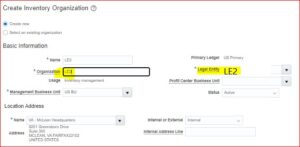 3. Identify all the locations which are used as deliver-to location within the business unit.
4. Segregate the locations based on the legal entity. While defining the locations, populate the corresponding inventory organization on the location setup.


5. In case there are locations which are common between the legal entities, then define them as duplicates by naming the locations appropriately for easy identification and populate the respective inventory organization on each location setup.
6. As the configurations are complete now, requesters would need to login into the Purchase requisition work area and select the correct location in the requisition preferences. Users should ensure to select the correct location pertaining to the legal entity in which the purchase order needs to be raised.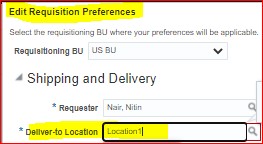 7. Users can proceed with creating the requisition and the corresponding purchase order will have the correct legal entity populated by the system.
8. Users would need to update the requisition preference and select "location2" for creating purchase requisition pertaining to "LE2".
Try this approach, if you haven't already!
Connect with Tangenz IT System Integrators, an Oracle Preferred Partner, to learn more and implementation assistance.
[/fusion_text][/fusion_builder_column][/fusion_builder_row][/fusion_builder_container]