Oracle Workflow management is a part of the Oracle Cloud HCM (Human Capital Management). It brings the complete package solution for the organization's workforce-related problems. An organization's success depends on its workforce; thus, workforce management is vital. Oracle Workforce Management helps streamline and automate processes and incorporate all the requirements to maintain a productive workforce. It enables the HR department to work systematically and provide the required set of employees at the needed time. Moreover, it automates the processes such as time tracking, leaves records and manages compliance with the policies.
Before diving deeper into the benefits and positioning of Oracle Workflow management, let's understand a bit about its components.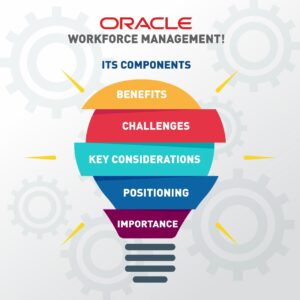 Oracle Workforce Management
The various components of the Oracle Workflow management are:
Time and labor: Time management is a vital part of workforce management in any organization. Employees need to track time for various reasons, such as projects. Additionally, a lack of real-time data could result in late action, lack of integrity or biases towards a group of workers.
Oracle Workflow management solution provides clear visibility and helps supervise the workforce of an organization across the globe by unifying the data, which helps optimize operational expenditure. Moreover, automation takes care of the labor union agreements and laws.
Absence management: Keeping track of leaves and overtime payments in compliance with the company's policies could be a troublesome process without a proper management system and could increase the risk. To solve the issue, organizations need an application that enables them to manage employee absenteeism and comply with global leave regulations. An absence management application can reduce the effects associated with absenteeism, such as increased costs and risk and reduced productivity.
The absence management system enables organizations to manage absence records globally, improving the employee experience and saving operational costs. Moreover, it minimizes compliance risks and increases productivity.
Workforce Health and Safety: Health and safety of the workers is a significant concern for organizations. To take proper measures and ensure safety, they need systems that assist in reporting, managing and mitigating the issues. Analysis of past incidents and unsafe conditions helps organizations take action, and reducing the risks automatically reduces related costs.
Workforce health and safety systems leverage embedded reporting and analytics to understand the risks better and support compliance requirements. It enables organizations to identify the risks in detail and take the necessary steps to reduce them. It has personalized dashboards, alerts and reports and leverages one source of truth and secure data. This Oracle solution enables organizations to get contextual information to understand the impact and is the only health and safety solution that can be deployed and configured quickly within days.'
Challenges of Workforce management
Every organization has a different set of challenges. However, Oracle tried to bring Integration Cloud solutions to most of the problems faced by various industries. It is best to choose a set of modules that aligns with your workforce concerns. Some challenges faced by the organizations are:
Tracking time: It is one of the most prominent problems organizations face due to lack of data integrity or slow working of the old software systems. The old systems are prone to errors and are no longer sufficient to track time. It results in unnecessary payroll costs and additional administrative burdens.
Represented workers: These workers are the ones who have higher wages and better benefits than non-represented workers. Managing the contracts, rules and laws related to the labor union can be complex and complying with them could be challenging without a comprehensive workforce management solution.
The lack of a reliable absence management system: Organizations, especially big enterprises, face challenges because of diverse and complex requirements that result from managing absence policies around the globe. Its laws and rules differ from country and region, resulting in increased costs and risk and lower productivity.
Real-time information related to health and safety incidents: Workers require a unified and easy-to-use system or a platform to notify about such incidents. However, organizations lack such tools for reporting and minimizing employees' obstacles to reporting past or potential incidents. Therefore, organizations fail to take timely measures and ensure the safety of the workers.
Benefits of deploying Oracle Workflow Management
Assist in simplifying complex business scenarios with a drag-and-drop interface.

Saves time by providing a common platform and eliminating repetitive data entry tasks.

Automates approval by sending notifications and reminders.

Enables self-service monitoring abilities.

Improves communication globally but creates an integration hub

Helps you design applications to change workflow processes and enables continuous business process improvement.

Helps streamline business processes simultaneously when business is changing by defining and implementing company policies.

In E-businesses, excellent system integration and communication are required both within and beyond the enterprise to smooth workflow. Oracle-integrated cloud workflow management allows cross-system modelling of processes that includes looping, branching, parallel processing, etc. and enables business process-based integration.

It offers an easy and intuitive method to accurately report hours of work and absences for all the workers.

It provides a complete set of time management tools that allow organizations to alert workers and automate validation whenever required.

It improves management by reducing manual policies governing time and attendance.

Improves overall productivity by improving visibility into working hours and safety incidents and enabling managers to ensure fulfilment of staffing needs.

Promotes a safe work environment and environmental health by streamlining and automating the entire process from reporting to delivering information accurately.

Tightly integrated with Oracle Database and provides published PL/SQL & Java APIs to drive workflows.
When to position Oracle Workforce Management?
Oracle has developed its Oracle Workforce Management software solution, a part of Oracle HCM, to meet the workforce management needs of organizations across the globe. However, it is crucial to understand how and when to position it. To get to the bottom of the question, keep the following points.
The modules it consists of and their purpose:
Oracle Absence Management: Manage absences globally and legislative changes; track absence trends, and ensure compliance.

Oracle Time and Labor: Used to manage and publish shift schedules, time entry, capture, collection and overtime, and premium calculations.

Oracle Workforce Health and Safety: The purpose of this module is to report, manage, and mitigate health and safety incidents, identify health and safety trends, and ensure compliance.
Other vital capabilities include work schedule patterns, standard work hours, and holiday calendars.
When to position?
Positioning the complete solution first is recommended to have complete control over the integration of cloud workforce management. However, there are a few exceptions, such as:
For a new Advanced Scheduling solution
For the retail and manufacturing industry: Position WorkForce Software's Workforce Management Suite, which includes advanced scheduling, absence compliance tracker, time and attendance, and time collection devices.

For Non-Acute Healthcare: you should position Humanity's Advanced Scheduling.

For the Public Safety position, Oracle's WorkForce Management full suite.
If interested in a new Forecasting/Optimization solution
For the Food and Beverage industry: Position Oracle workforce management solution with Oracle micros cloud labor management.

For the Field Service industry: Position Oracle's workforce management solution plus Oracle cx cloud shift planning.
Why is Workflow Management critical?
Organizations consist of intricate business cycles, and these cycles are to streamline their workflow to increase productivity. However, according to the workflow management coalition, only 10 per cent of the time is utilized in performance, whereas 90 per cent is classified as transfer time.
The objective of the Oracle workflow management solution is to rebuild the components of lengthy business cycles to cut down the time required to execute a task and eliminate the transfer time between the jobs leading to enhanced performance and an increase in returns on investments (ROI). Additionally, it improves customer service and produces flexible software control over processes, which enables their future redesign in response to changing business needs.
Key considerations for choosing the best workforce management solution
The employees will use the workforce management system for the employees. Its successful implementation depends on the user experience. Thus, organizations must keep the needs of their employees as the top priority while adopting the Oracle integration cloud workforce management solution. To comply with employee satisfaction, make it easy for:
Employees
Make it easy for the employees:
Provide self-service time entry and management

Enable employees to enter their own time and attendance data

Make it fast and straightforward for them to record their working hours.

Bring in a simple, mobile-responsive system for time and absence entries.
With a decent management solution, it becomes easy to define rules and policies related to absenteeism. Additionally, it configures data pertaining to leaves, such as eligibility, entitlement definitions, period terms, carryover rules, payment specifications, etc. It provides visibility to the employees.
Managers and HR
By the configuration of the systems, organizations assist managers and HRs by:
Reducing the impact of unplanned absences

Manage time in exceptional scenarios by getting notified in due time.

Enabling managers to design time cards to suit each worker.
Modern and updated management solutions can be customized according to business needs. They allow real-time information to reach managers on time via text messages and stop potential violations before they occur.
To connect enterprise employee data
Each module is strong, fulfills specific requirements, and enhances the employees' productivity. However, integrating the modules with other systems such as scheduling, payroll, project management, general ledger, and core HR systems benefits the organization even more.
For example, integrating attendance with payroll reduces payroll processing and time-tracking errors significantly. Integration of payroll, time and labor, and core Cloud HCM systems creates a vigorous leave management system and provides complete visibility into time and leave management.
The fast-changing work environment in organizations demands upgraded software solutions that can boost productivity and automate managing systems. Oracle workforce management, a part of Oracle Fusion HCM, fulfills the requirements by providing a workforce management solution that is not present anywhere else in the market. The goal is to help organizations grow with ease in working and increase productivity. Having strategic insights is essential for organizations to remain ahead in the competitive market.
To consult about Oracle workforce management, connect with Tangenz IT integrators today.