Running a business has its set of perks and challenges. One of the biggest challenges is the work management and processes such as finances, payroll, sales, inventory, and more. These are the processes that start from the beginning and are essential but consume a lot of time. Also, growing companies have reached a stage where QuickBooks, Google Docs, and Sheets are not enough anymore and require an alternative that is useful and economical.
Keeping in mind the needs and budgets of small businesses, Oracle came up with an ERP solution that is similar yet different from Oracle ERP Cloud, which caters to larger enterprises and is quite expensive. The Netsuite ERP software! It automates tedious day-to-day takes and provides real-time insights into the database across all departments. It enables the core team to analyze various scenarios, make informed and fast decisions, make the work efficient, and increase effectiveness. Small businesses require software that can take the load off the shoulders and ensure error-free content creation with minimum manual involvement. Oracle NetSuite is one such business management software.
Difference between Oracle Cloud ERP and NetSuite:
When reading about ERP software, a preset notion comes to mind that it's extremely expensive and requires many resources. However, Oracle's Netsuite is a software system created to grow with small to midsize businesses. Here are some key differences between Oracle ERP Cloud and NetSuite.
| Oracle ERP Cloud | Oracle NetSuite |
| --- | --- |
| Developed and suited for large enterprises | Suitable for small to midsize businesses |
| | Modular and incremental automation |
| More integrated and comprehensive knowledge | More configurable and allows configuration as per requirements |
| Lengthy Configuration and Migration | More flexible with seamless integration of existing software suites |
| | |
What problems does NetSuite solve?
Finances:

Accounting and other financial processes are recurring tasks and prone to mistakes because of the number of manual entries. NetSuite automates the entire process and ensures an error-free process.
Insights:

Timely insight into the data is essential to ensure that decisions are taken on time and all the teams are in sync with the requirement. The system provides a shared database and thus helps the team to collaborate and gather information from a common platform. NetSuite Planning & Budgeting (NSPB) is another powerful add-on that facilitates company-wide and departmental financial planning with modeling capabilities, approval workflows, and reporting within one collaborative, scalable solution.
Marketing:

In the growing digital space, the scope of marketing is vast and can be utilized to its full potential with the right ERP software at its disposal. It automates the marketing processes such as email marketing and helps build a robust online presence.
Expansion: NetSuite

makes entry into a new market or adds new products simpler. Additionally, it enables interaction and management of the customer base via new channels and ultimately helps businesses grow at a faster pace.
Cut Costs:

Oracle's NetSuite is cloud-based software, thus eliminating the cost of on-premises hardware and software and keeping your software updated as the NetSuite takes care of updates.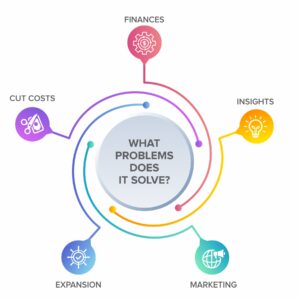 Core features of the NetSuite!
Unified business:

The NetSuite application allows companies to run the entire business from one unified platform as the software provides a shared database for manufacturing, HR, supply chain, and E-commerce. It enables faster and more precise decision-making and monitoring of the operations. With just a few clicks, managers can ensure that all the team's work is in sync with the project and its requirements.
Native integration:

The software application provides a centralized database where all the information is stored. Using a common source for data ensures that everyone is working with the same data. It reduces the chances of errors and improves productivity. Additionally, it creates transparency among departments and saves time in gathering information as it gives real-time updates. Also, the same user interface means faster learning and getting used to the software.
Reporting capabilities:

The flow of information on a unified platform gives everyone access to the data pool. Users can access any report they require at any given time. It again saves a lot of time that is otherwise wasted in following up with a concerned person and getting hold of a report. Moreover, a customized dashboard for the managers and executives helps them monitor the reports and make informed decisions as per requirement.
Fully cloud:

Most of the ERP software present in the market is either on-premises software or is hosted on a hybrid cloud. Such systems lack timely updates, scalability, slow upgrades, and high maintenance costs. However, NetSuite has been built for the cloud and doesn't suffer these challenges. Besides, timely updates are provided by the vendor, and your system remains up to date with new features and benefits to help your business grow.
Flexibility:

One of the main reasons ERP systems work like a blessing for most businesses is their flexibility and ability to quickly adapt to the environment of different businesses. It can be modified according to any stage of a business and is a trusted option for enterprise-level businesses and startups.
Configuration is the key!
ERP software can be configured so the company can tailor it to their requirements and get the most out of the system. The need for configurationn arises because all businesses and their way of executing tasks are different. Therefore, Oracle allows ERP NetSuite owners to configure the software when the provider takes care of all the updates. Customized workflows and interfaces can be built for different processes with NetSuite to automate processes such as approvals, lead generation, and more. Moreover, NetSuite tools make it possible for developers to develop applications, alter processes, make changes in the system to display the company's terminologies, and more.
To sum up, Oracle NetSuite is a comprehensive cloud solution with end-to-end automation and management with integration capabilities that small businesses can afford. It covers all the requirements of small and mid-sized businesses and streamlines operations. Moreover, its scalability helps integration with other software systems such as Oracle EPM Cloud or HCM Cloud whenever the company decides to onboard them.
Connect with Oracle Certified Partner, Tangenz, IT System Integrator, to learn more about the software or get assistance with its implementation. If you are already using NetSuite and would like assistance in making the environment work better for you, let us know. We will help you define best practices to make your NetSuite environment that much better.